Try our delicious CBD Vegan blueberry gummies
Un moyen amusant et facile de profiter des bienfaits du CBD dans votre routine quotidienne, nos gummies au CBD vegan au goût myrtille sont des bonbons de première qualité qui vous apporteront relaxation et apaisement.

The passion of CBD and its virtues drives us in the quest for perfection

Compliance with the highest standards for a superior quality product

The highest level of CBD, without any additives, powerful and long lasting effects

CBD full spectrum 100% pure
No unnecessary additives that artificially increase CBD levels to reduce costs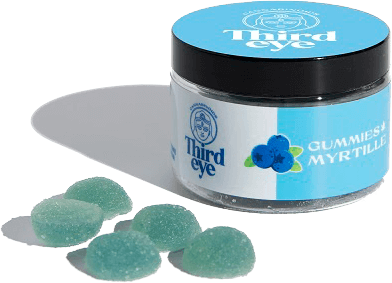 The Gummies with CBD vegan, for natural effects of relaxation
Blueberry flavored vegan CBD gummies are premium candies that offer you a fun and easy way to enjoy the benefits of high quality full spectrumCBD in your daily routine.
Gummies contain 25 mg of CBD each
Box containing a total of 30 pieces or 750 mg of CBD
Full spectrum gummies, rich in CBD and other cannabinoids and terpenes, for maximum entourage effect.
Most people already feel the effect of CBD with 1 or 2 gummies.
Ingredients of the Vegan CBD gummies
Corn syrup, water, sugar, apple pectin, citric acid, natural organic berry flavour, full spectrum CBD oil, natural blue colour (vegetable), malic acid.
Characteristics of vegan CBD gummies
Container size: 150 ml
Weight of contents: ~100 grams
CBD per container: 750 mg
Quantity of pieces : 30
CBD per piece: 25 mg
Full spectrum: Yes
Pourcentage de THC : <0.05%
Taste : Blueberry
Additives : All 100% natural
Vegan : Yes
Legal Information
This product is not a medicine, not suitable for pregnant women and people under medical treatment.
Produit légal THC <0,2%
Laboratory tested
The sale of CBD products is prohibited to minors, under 18 years.
Only connected customers who have purchased this product can leave a review.