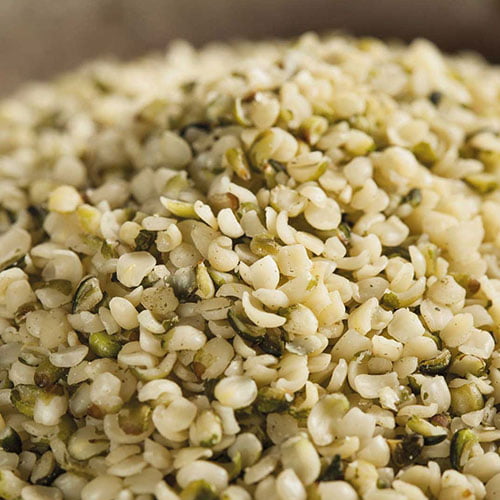 Why use organic hulled hemp seeds?
Hemp seeds are exceptionally nutritious and rich, they contain more than 30% fat. They are very rich in two essential fatty acids, omega-6 and omega-3.
They have a ratio of about 3:1 omega-6 to omega-3, which is considered the optimal range.
An excellent source of vegetable protein, over 25% of their total calories come from high quality protein.
They provide similar amounts of protein to beef and lamb - 30 grams of hemp seeds, or 2 to 3 tablespoons, provide about 11 grams of protein.
The virtues of hemp seeds
The seeds of hemp are beneficial for skin diseases. In fact, studies have shown that giving hemp seed oil to people with eczema can improve the levels of essential fatty acids in the blood. It can also relieve dry skin, improve itching and reduce the need for skin medications.
It also aids in digestion, fiber is an essential part of your diet and is linked to better digestive health. Whole grains are a good source of soluble and insoluble fibre, with 20% and 80% respectively, which are beneficial to digestive health.
Ces graines exceptionnelles peuvent aussi réduire les symptômes associés au SPM et à la ménopause, grâce à ses niveaux élevés d'acide gamma-linolénique (AGL).
Rich in essential fatty acids (omega 3 & 6)
Rich in complete proteins (8 essential amino acids)
Vitamins and minerals
Natural hazelnut and pine nut flavor
Can be added to all your sweet or savory dishes
Discover the best CBD recipes on our blog!
EU Agriculture.
20 to 40 g per day. to consume in your salads, crudenesses or in your favorite dishes.
A spoon with soup your approximately 10g.
Packaged in a 100% airtight zipped doypack. Capacity 250g. Stand upright.
Packed with peace and love.
Only connected customers who have purchased this product can leave a review.