Discover our 100% organic CBD teas and infusions
Our exceptional organic CBD infusions are selected among the best qualities, for their virtues and their exceptional taste.
At Third Eye we have created a selection of teas and herbal teas that can be adapted to your different moments of well-being, throughout the day.
What is a CBD infusion?
An infusion is the process of extracting the active principles of the hemp plant by dissolving them in a hot liquid. We know today that tea contributes to well-being and good health, especially green tea which is the best from a health point of view.
A 30% concentration of CBD biomass is present in each Third Eye herbal tea, to bring you additional soothing benefits from this form of CBD consumption by infusion.
Why CBD infusion?
There are many ways to consume CBD. And why not in infusion? A natural, healthy and economical alternative, which will allow you to fully enjoy the benefits of CBD and cannabidiol. We explain why and how to make your infusions. Infusions have become commonplace and are becoming more and more part of our daily lives. Healthy and natural, they are regularly used as natural remedies.
The relaxing effects of the CBD infusion are felt after only 20 to 30 minutes and act in depth.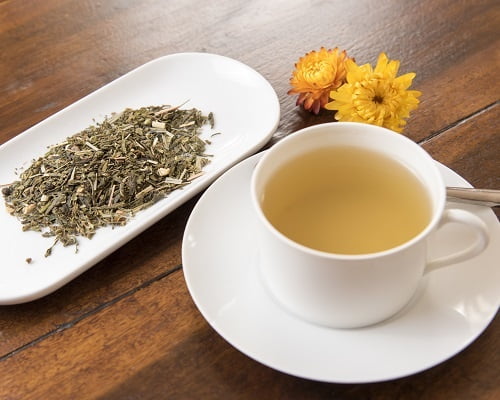 What are the benefits of CBD infusions?
We know that the herbal tea has the virtue of soothing certain ailments, so why not combine it with CBD for even more effectiveness?
The CBD tea diffuses slowly and long its effects. It allows to act gently and on average longer than other means of consumption.
A CBD tea has many benefits for our body and mind:
To relax and have a better attentionThis is a very useful tool to relax and unwind. Its action at the level of the nervous system also makes it possible to profit from a better attention since the spirit and the body are relaxed.
Soothe : The molecules present in hemp plants can in some cases soothe chronic symptoms. This can alleviate small everyday glitches, such as headaches or physical tension, which tend to subside after drinking CBD infusion.
Facilitate digestion : its consumption can relieve some unpleasant sensations in our digestive system, and facilitate the digestion process.
Facilitate sleep: CBD tea before bedtime can be a sleep ally. CBD is widely used to help consumers sleep well. Again, hemp infusions promote relaxation and directly influence another aspect of our well-being: sleep. It also appears that it can promote sleep by helping our bodies to be more in tune with the natural cycles of day and night.
Reduce stress and anxiety: A less agitated mind is likely to translate into a more relaxed body. CBD teas can be consumed throughout the day and work gently on our bodies. After all, what better way to get rid of daily stress than with a comforting herbal tea?
Is there a recommended dosage of CBD?
Scientifically, no. It is important to remember that CBD has no known major side effects. There is therefore no major contraindication to its consumption and its dosage. It is however preferable to always start with a light dosage, then gradually increase the dose until the desired effects are obtained.
Now that you know all the benefits of a CBD tea and how to prepare it well, let yourself be tempted!
Preparation tips
To get the most out of the properties and taste of our flavored organic tea/tisane, follow these tips:
Quantity: 2-4 g for one person and 8-12 g for one liter of water
Infusion time: 5 -15 min
Ideal brewing temperature: 70-80°C