Buy CBD to help your pets, dogs and cats
Like humans, animals can also enjoy the benefits of CBD!
Whether it's a young pet or an aging companion, our CBD oil can perfectly support your pet.
Give easily CBD to your pet thanks to the 4.5% Third eye oil containing a hemp extract diluted in salmon oil very appreciated by dogs and cats, which greatly facilitates the administration of CBD (Cannabidiol).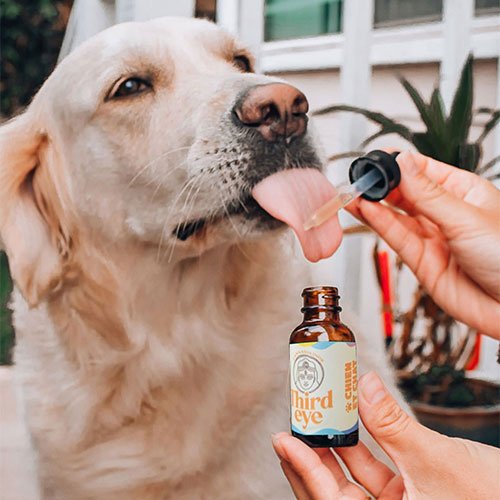 The best of CBD for our pets
Why give your pet CBD?
CBD products can help particularly anxious dogs and cats find a better balance. The cannabis plant contains non-psychotropic active ingredients that can promote health and well-being - in both humans and animals.
CBD is suitable for almost all mammals. It is most commonly used in dogs, cats and horses.
CBD is classified as a dietary supplement. It is harmless when used correctly and with the right dosage. Many veterinarians are now using it as a complementary therapy. However, should you experience any adverse effects, please consult a veterinarian.
The benefits of CBD for your pet
All mammals have an endocannabinoid system, they react to cannabinoids just like humans. Part of the nervous system has special receptors that interact with cannabinoids. CBD can help the nervous and immune systems control sleep patterns, manage stress and anxiety, and regulate inflammation and pain.
1/ CBD for dogs and cats relieves arthritis and joint pain.
An animal that discovers a new place to live may experience anxiety.
2/ CBD to animals to calm convulsions in babies.
An animal that discovers a new place to live may experience anxiety.
3/ CBD helps against anxiety
An animal can experience anxiety when it discovers a new place to live. CBD oil for pets can therefore be very interesting. Indeed, with a dosage of a few drops per day, CBD oil can reduce the anxiety of a dog or cat. Its cannabis content will allow him to relax and become familiar with his new environment.
What are the effects of CBD on animals?
Developed specifically for animals, our CBD products promote good health, physical activity, improve overall health and contribute to balanced social behavior.
This way, pet owners can improve their pet's quality of life. Although CBD cannot cure serious illnesses, we believe it is a multifunctional and natural dietary supplement that cats and dogs can easily benefit from.
The main properties of CBD in animals:
Anti-inflammatory effect
Relief of anxiety
Analgesic effect
Strong antioxidant effect
Antispasmodic effect
Palatable effect
Soothing effect
Relief of itching
Strengthening of the immune and nervous systems
Excellent for coat health
Strengthening of the vitality
Useful for joint and muscle problems, skin diseases, gastrointestinal problems, cancer, depression and agitation
How to give CBD oil to your pet?
Ideally, administer directly into the animal's mouth so that the active ingredients can be absorbed through the mucous membranes. If this is not possible, combine CBD with food. We recommend 2 to 3 drops of CBD per 10 kg of body weight.
The oil bottle is equipped with a dropper to put the CBD oil directly into the mouth.